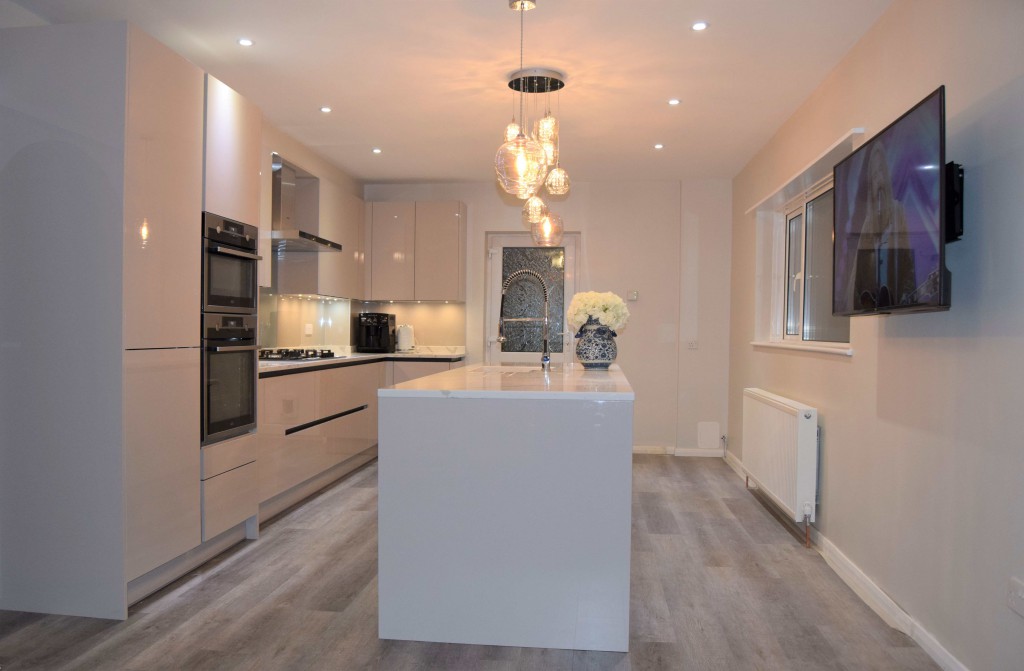 Back to Gallery [ ] Next Kitchen
Kitchen Style: Unity High Gloss 2 tone edged Acrylic, Cashmere.
Worktops: Strata Calcutta Gold Quartz 30mm
Total price £25,000
Features of this project
Handle-less kitchen units, Open plan island design, 30mm quartz worktops, new appliances, re-plastered room including new ceiling, ceiling lighting, sliding door to hall, new flooring throughout
Customer comments: LOOK NO FURTHER, YOUR SEARCH IS OVER. We spent 3.5 years going through problems with all the main large kitchen "high street" retailers, that was just designing and drawing up specifications for our kitchen, in that period before any work commenced they ALL had issues. Then I found, MHI. From start to end we had nothing but first rate service, from design advice, listening to our desires and advising what was actually practical and achievable, and then all the work undertaken from start to finish. Plastering organised (on a very rough ceiling), reboxing in things, plumbing, gas, sunken lights, etc. We now have a kitchen to die for. No multiple kitchen designer could pull this off, they don't have the skills and experience of MHI, instead they rely on contractors. MHI provide a proper service covering EVERYTHING. My kitchen is a work of art, and I'd welcome anyone who wants to see it. We have a LARGE kitchen, this was one of MHI's bigger installations. We're 110% satisfied on all counts.