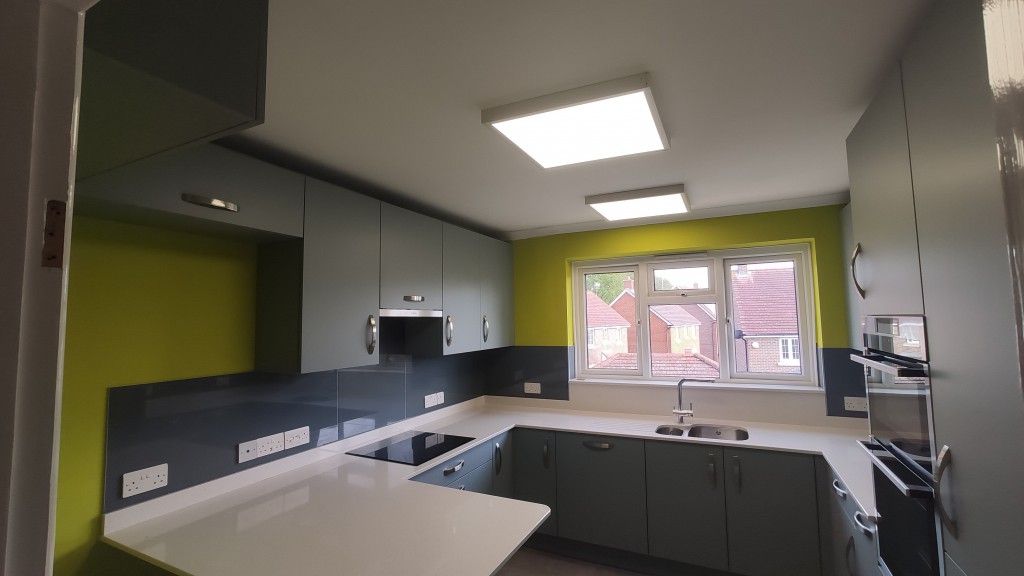 Back to Gallery [ ] Next Kitchen
Kitchen Style: Slab Door, Fyord Green.
Worktops: quartz Mirror
Total price £22k
Features of this project
This was quite a big project, the client wanted a lot of features and appliances in his kitchen and the space did not allow everything he wanted. So I suggested we use a large area in his hallway to create a whole new utility room to house the laundry and free up space in the kitchen.
This gave us the flexibility to make the kitchen really work well and we were thrilled with the result.
Using the striking colours chosen, the design looks amazing. see below his comments that tell you all about it.
Customer comments: 'Which?' trusted trader 5 star review
"I would have no hesitation in wholeheartedly recommending Mark at MHI Kitchens. Certainly worth the wait for him to fit my job in (which actually suited me perfectly). From the very outset, Mark took a lot of time to understand what I wanted from my new kitchen – his first visit took 2 hours whereas the other companies that quoted were in an out within 20 minutes. He came up with a creative solution to a space issue which meant I didn't have to compromise at all on the dream kitchen I hoped for. This involved creating a utility room in some otherwise dead space on my landing. Other companies' designs were herding me towards a fridge/freezer rather than a large separate ones and a washer/dryer rather than separate ones. Mark really went above and beyond to create a fantastic space – even so far as to re-route two sets of central heating and water pipes which had previously been surface mounted and boxed in. Mark clearly knows his stuff and was always on hand to deal with dozens of my queries and to provide me with responses based on his experience. It was great to have someone on board who does everything from original design through sourcing the materials to fitting it – the only other people were someone to sign off gas work, a plasterer and specialist measurer/fitters for the worktop & splashbacks. It gave me confidence that the design features would be brought to fruition. I have two stunning spaces and feel honoured that Mark chose my project to work on."